Leading Firm in the Belarusian market by the Chambers Europe Guide 2019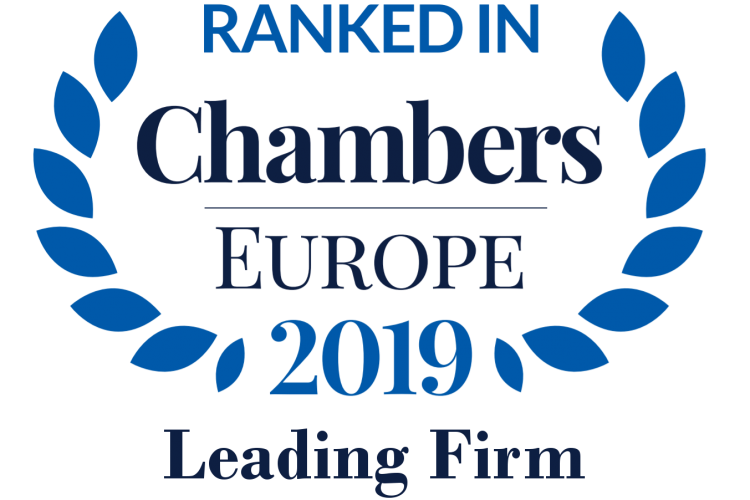 On 7 March 2019 Chambers and Partners, one of the world's leading legal ranking agencies, has released a new edition of the Chambers Europe Guide 2019.
Firm Rankings
The Guide has once again proven our Firm's leading positions in the market in all the research practice areas. Namely, Borovtsov & Salei is recommended in the following practice areas:
"Respected team with an established track record of advising international clients. Assists with M&A, the establishment of companies and other day-to-day corporate matters. Has notable expertise handling construction projects. Also handles issues relating to regulatory matters. Clientele includes international names from a wide range of industry sectors, such as finance, IT and manufacturing. Market observers emphasise the team's "outstanding negotiations skills," also adding that the lawyers "know how to deal with both Western and Eastern counterparties to achieve the best result."
"Long-standing practice regularly assisting international lenders with loans to Belarusian companies. Also acts for borrowers on debt restructurings. Has practical experience of financial services transactions, including mezzanine financing. Sources recognise the team's client service skills: "They always meet the deadlines, even very tight deadlines. They give very helpful guidance."
"Active practice in the dispute resolution field with a broad range of experience. Handles matters concerning debt recovery, contract issues and employment disputes. Also covers arbitration cases. Acts for clients from the manufacturing, IT and FMCG sectors. The department draws praise from market sources for its business awareness and quality of advice. "The team is able to re-arrange the strategy very quickly based on unpredictable circumstances and see the 'big picture' of each case and act accordingly," says one impressed interviewee."
Individual Rankings
Further, a number of our partners and lawyers has been particularly recommended for transactional and litigation work in Belarus.
Namely, Senior Partner Vassili Salei has been included in an exclusive band recognizing him as an 'Eminent Practitioner' in Corporate / Commercial. Partners Max Znak and Alexander Botian has been traditionally named as leading individuals in Corporate / Commercial with additional recognition in Dispute Resolution and Banking & Finance accordingly. New to the rankings senior associate Illia Salei is now recognized as an 'associate to watch' in Banking & Finance.
The Chambers Europe Guide 2019 about our team:
Vassili Salei, Senior Partner - Eminent Practitioner (Corporate / Commercial)
"Vassili Salei is an established presence in the Belarusian market, assisting clients with corporate and transactional matters. Sources endorse his long-standing reputation as a respected practitioner, with clients characterising him as a "brilliant negotiator."
Alexander Botian, Partner (Corporate / Commercial, Banking and Finance)
"Alexander Botian has extensive experience advising clients on a wide range of corporate mandates, including restructuring and foreign investment matters. He is highlighted by clients for his pragmatic approach." "Alexander Botian is a well-regarded banking and finance and corporate lawyer, regularly acting for banks on financial transactions. Market sources describe him as a "very strong lawyer."
Max Znak, Partner (Corporate / Commercial, Dispute Resolution)
"Maxim Znak is a versatile practitioner, assisting clients with corporate, commercial and capital markets mandates. He is also noted for his litigation prowess." "Maxim Znak is highlighted for combining a "legal and business approach," with sources describing him as a "strategic thinker." He has experience in a range of disputes, representing clients in corporate conflicts and debt recovery cases."
Illia Salei, Senior Associate (Banking and Finance)
"A new addition to the rankings, Illia Salei is a highly active member of the banking and finance team, advising global corporations, development banks and private investors on a range of issues. He stands out to interviewees for his "pragmatic approach."